The way to this spot
This spot is located here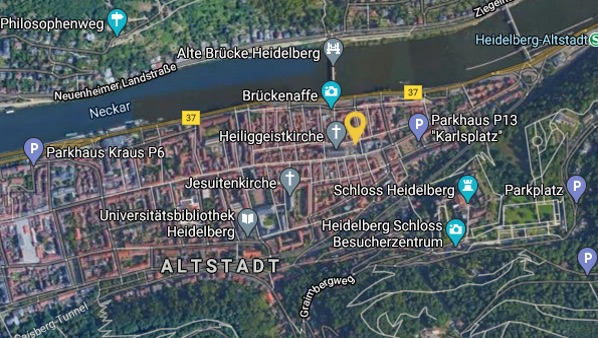 Market square
The market square is one of the oldest squares in the city and has been fulfilling its eponymous function since the square itself was first built. In the north and south it is bordered by rows of houses, in the east of the square is the town hall, in the west the square is dominated by the Church of the Holy Spirit.
In the middle of the square you will find the Hercules Fountain, which was built between 1706 and 1709 and is intended to commemorate the enormous efforts of rebuilding the city after the devastation of the Palatinate War of Succession.
Info
In addition to its function as a place for the weekly market, the square also served in earlier centuries as a venue for public trials, e.g. against Johannes Sylvanus, the band of robbers of Hölzerlips or Mannefriedrich in 1812. In winter, the market square also regularly serves as venue for the Heidelberg Christmas market.
In the past, all sorts of products were offered for sale here, but today you will find mostly restaurants and cafés. In the small shop annexes of the Holy Spirit Church, which are inserted between the structures, the damilige flair is still a little visible. While in former times there were florists, shoemakers and bakers here, today there are, beside small book shops, mainly souvenir shops. If you need a suitable souvenir from Heidelberg, you will certainly find it here.
We hope you enjoyed the tour and learned a few details about Heidelberg you didn't know so far.
This was the final station. You completed our city rallye – congratulation!