The way to this spot
This spot is located here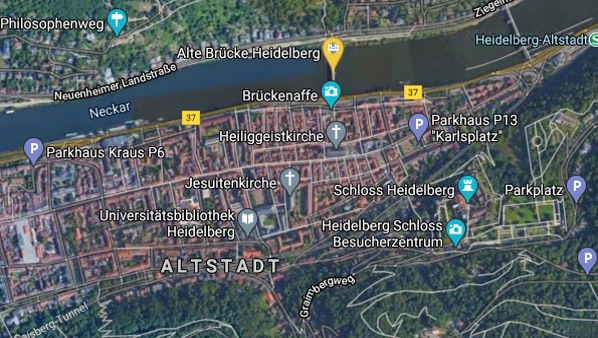 Old Bridge Heidelberg
The predecessors of the present Old Bridge were all made of wood. As these were repeatedly destroyed by wars and floods, the Electoral Prince Karl Theodor had a stone bridge built over the river (1786-1788). It was made of Neckar Valley sandstone and is today one of the most famous landmarks of Heidelberg.
The Karl Theodor Bridge, as it is also called, connects the old town with the banks of the Neckar at the eastern end of the Neuenheim district. On the city side, the medieval bridge gate, part of the former city wall, has been preserved.
On March 29th, 1945, one of the last days of the Second World War, German soldiers blew up the Heidelberg Neckar bridges and also the Old Bridge. Thanks to a fundraising campaign, that was actively supported by the citizens, the reconstruction began on March 14, 1946. The inauguration took place in July 1947.
Task: Four rivers
Altogether there are three groups of sculptures near the old bridge. On the northern bank of the bridge the bridge patron saint Johannes Nepomuk is depicted. (picture)
Karl Theodor was very interested in the promotion of art and science and therefore had a monument erected in honor of Minerva, the goddess of wisdom.
The other monument shows him in an imposing pose and together with various reliefs. Among them are four figures of river gods, which allegorically represent the four main streams of Palatinate Bavaria. Of the figures, two are male and two are female.
Which four rivers are we talking about?
Please wait until your host gives you the permission to move to the next station