The way to this spot
This spot is located here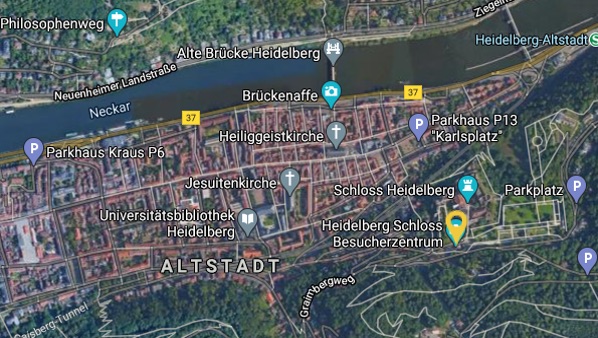 New Visitors Center
At the beginning of the 17th century, the Electoral Prince Friedrich V. had the English building erected, the last independent palace building to date. This made the question of the location and design of a new, modern visitor center even more sensitive. The new visitor centre is placed next to the historical retaining wall between the gardener's house and the former tack room, which nowadays is a restaurant. Grouped as an ensemble, the three buildings now form the entrée to the castle. The new building's architecture evolves out of the idea of the structure as a sculptural block of stone. Echoing the tack room's construction, the walls are more than two meters thick. Here however, rather than being formed as solid masses, the walls accommodate ancillary rooms and vertical access routes for the two-floor building.
The state of Baden-Württemberg provided three million euros from its infrastructure program for the new building. The architectural office of Prof. Max Dudler in Berlin was won for the planning and execution. The new building with 490 square meters of floor space was erected on a former parking lot between June 2010 and December 2011. It is the first new building in around 400 years in the Heidelberg Castle area.
Task: Discussion
The two floor building is equipped with two meter deep window reveals. They adapt to the large-format openings of the nearby historical tack room, which are also deeply cut.
The walls are covered with Neckar valley sandstone. The building thus adapts perfectly to the quarry stone masonry of the historic castle buildings. The connection between old and new is also underlined by the views from the building into the garden and to the Elisabethen gate.
Discuss whether in your opinion it makes sense to adapt a new building in terms of design to the castle or to clearly show that it is a modern building and that it should also appear modern.
Please wait until your host gives you the permission to move to the next station