The way to this spot
This spot is located here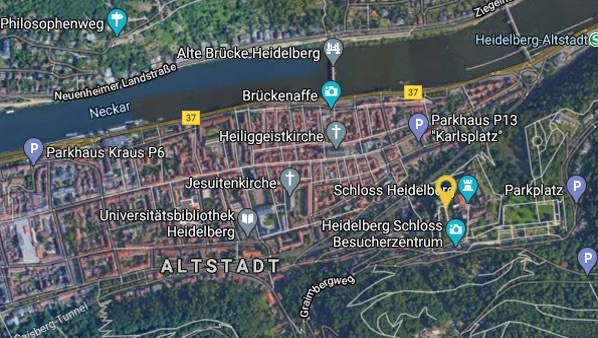 Castle moat
The Heidelberg castle moat shows a section of the complex geological development of the Odenwald. The Odenwald is a low mountain range in the German states of Hesse, Bavaria and Baden-Württemberg. Due to the cutting of the Neckar river it is possible to see into the coloured sandstone deposits as a stratigraphic sequence in the Heidelberg.
Back then the 8m deep channel from the 13th century was filled with water. Today, the vertical face is not only a window into the distant history of the earth, but also a refuge for rare animals (e.g. fire salamander), which find the ideal habitat in the humid rock niches and crevices. The channel is therefore not only a geotope but also a particularly valuable biotope. For this it was voted "Geotope of the Year" in 2016.
If you click on a picture you can see it in full size. To return use your browser navigation (back-arrow).
Task: Permian period
The two geological units that tell this special story now meet in the vertical wall of the moat: At the base merge the weathered Heidelberg granite, cut by quartz-rich aplite ducts. In this way it was formed the land surface of the early Permian period, which was then subject to erosion.
The subsequent thick, heavily weathered layers of sand, rubble, volcanic masses and debris flowed from the Reddish period, which solidified into arkose sandstone. At the limit of both rock units, which is especially formed by weathering processes, one looks directly at the former land surface from the Permian period.
Do you know when did the Permian period took place?
Please wait until your host gives you the permission to move to the next station